The new year is the time when we all gather around, over indulge, and then make radical promises to become the most Type A person you know and swear off all sweets, alcohol and spending money of any kind.  Of course by week two you have a tough day at work, console yourself with wine, online shopping and cookies in front of a Netflix watch-a-thon.  All bets are off.  You might think this makes me one of those people that says that new year's resolutions are worthless but they're not.  A new year is a powerful time to turn the page.  In my world as a calendar-maker,  2016 is literally a fresh start on the paper.  Although most resolutions don't last, some do.  Just the act of taking time to reflect on your past year and make attempts to get clear about what you want in 2016 is beneficial.
Where I think the flaw lies, is in the fantasy resolutions.  Everyone should  take time to consider the type of person you are before you make new resolutions.  If you've never gotten up early in 40 years of living on this planet, then I would not lead off with plans to start a 4am exercise routine.  If you eat out three times per day then perhaps you'll not start cooking at home like the Barefoot Contessa.
So if you want to cook at home more, maybe start with Blue Apron for one meal per day five times per week.  The ingredients are all picked out and sent to you in a box.   If you want to exercise, start with 30 minutes per day, 4 times per week.  Don't buy $700 worth of classes at Soul Cycle just yet.
So what to do.  Here's my top 4 suggestions:
 Narrow it down to two main goals.  Be crystal clear.  What do you want?  Working towards world peace, a 100-lb weight loss and $80,000 in debt paid off is a lot.  What's most important to you? Phrase the goal in chunks.  Pay of $200 in debt per month.  Lost 5 lbs per month.  Volunteer at the UN once per month.
Write down an actionable steps.  I will cook at home 5 times per week.   I will exercise four times per week.  Be careful not to say I'll be wearing a size 8 by December 31st or I'll be healthier or thinner or more organized.  Too pie in the sky with no real action associated with it.
List your why.  After about 2 to 4 weeks you're going to get tired, busy and forget all about those goals.  I like to start every Monday morning off with a quick check in on my goals.  Next to my goals I have written my why.  Why did I want this for myself?  Why was this goal so important to me January 1.  I make bulleted lists of my why so that when my enthusiasm in waning, I can find my passion again and get it going.  The why will reaffirm your decision.
Keep reflecting on your progress.    There are lots of ways to keep on top of goals.  I paste my goals into a repeating Google calendar appointment for 8am every Monday.  I'll get a reminder and email that contain my goals.  I take a few minutes to pause, reflect and retune.  Goals are a process not a box to check off.
If you need a template or want to start your kids off on goal setting check out my New year's Resolution Journal.  A great keepsake to see how your goals progress over the years.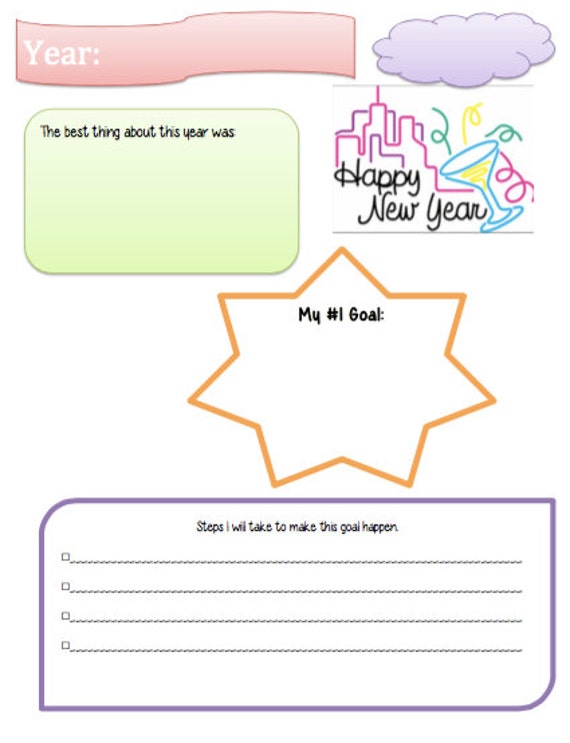 Plan your life, not react to it.  Have a wonderful holiday and spend some quality time thinking about your 2016 goals.